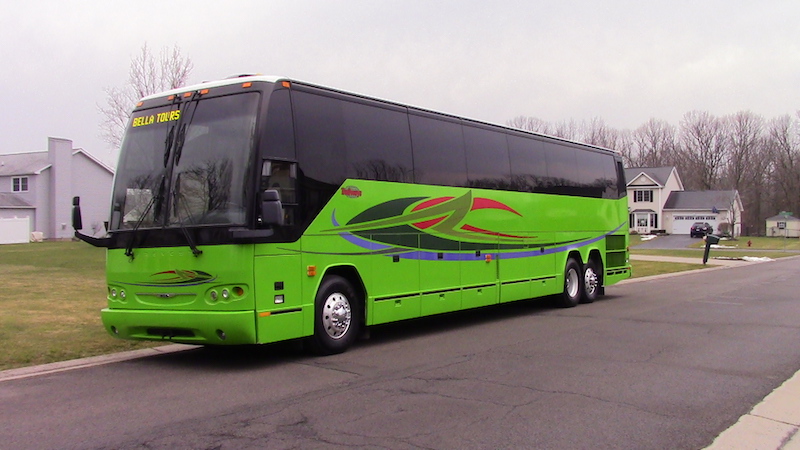 2009 Prevost H3-45
35 Passenger
$ 64,995
461,000 Miles
When considering an appropriate example to the definition of class personified, this sophisticated and luxurious highway coach doesn't just exceed all expectations, it completely resets them. From its distinctive and proud front-end to its elegant design and amenities, there is no mistaking any ordinary bus for the gold standard in touring coaches.... the Prevost H3-45

For sale in immaculate condition; 2009 Prevost H3-45 Luxury Comfort Touring 35 Passenger Coach loaded with an exorbitant number of lavish and relaxing options with only 461,000 original one owner miles powered by a legendary 445 HP Turbocharged 14.0L I-6 Detroit Diesel DDEC VI Series 60 Engine and Allison 4th Generation B500 Electronically Controlled 6 Speed Automatic Transmission. Runs and drives excellent with all mechanical and electronic components in proper working order. Fleet owned and meticulously maintained having received service with OEM parts and DOT inspections at regularly scheduled intervals.

The Mechanics:
Curb Weight: 36,585 lbs / GVWR: 52,060 lbs
Fuel Tank Capacity: 230 Gallons
Length: 45' 8" / Width: 102" / Height: 12' 4"
Tire Size: 315/80 R22.5 Load Range "L" on Alcoa aluminum forged wheels and TPMS
24 Volt System with 12 Volt Exterior Lighting / Dual 28 Volt, 140 Amp Bosch Alternators
Bendix EC-60 Automatic Traction Control w/ Engine Torque Limiting and Differential Braking for lateral stability when accelerating through curves
Air-Ride Suspension - (10) 12" Goodyear Rolling Lobe Air Springs
Independent Front Suspension
Dana Spicer S84V "I" Beam Front Axle
Meritor Model RC23-165 Drive Axle w/ Dana 1810 Series Heavy-Duty 4" Universal Joints
120 Volt Engine Block Heater Connector

The Features:
Climate Control: MCC A/C Cooling Capacity: 108,000 BTU / Heating Capacity 152,000 BTU
Kneeling / Front Axle Hi-Buoy
Retractable Tag Axle
470 ft3 Total Baggage Compartment Volume & Locking Compartment Doors
Allison Transmission Economy / Performance Mode
Automatic Fire Detection And Suppression System w/ Protection Panel & Activation Switch
Fast Idle - Radiator Fan Override - Engine Stop Override - Backup Alarm
Spare Wheel Compartment with Tire
Dimensions Pure-Sine 2400 Watt Inverter
Luminator TwinVision Destination w/ Front & Side LCD Display Panels

Driver Options:
Cruise Control - Pneumatic Tilt Wheel - Air / Elec Horn Selector - TPMS - Fog Lights
Message Center Display w/ Driver Infotainment, Trip Information and Diagnostic Fault System
Voyager AOM713 7" LCD Day / Night Display Backup Camera w/ Audio
Power Heated Side View Mirrors w/ Dual Flat-Type and Convex-Type wide angle view
Air Operated Entrance Door Switch
Pneaumatic Isringhausen Leather Seat with many comfort settings
Driver's Power Window w/ Window Shades
(2) Electrically-Operated Windshield Shades
Driver & Cabin HVAC Control Unit
VSS-05 Sound Selector Audiovisual Controller w/ Remote
AM/FM/CD/AUX Radio - P.A System
Optional Tour Guide Seat Securing Devices w/ PA System Input
Plenty of Utility Compartment Storage
750 Watt Inverter

The Comfort:
The Prevost H3-45 coach offers generous cabin space, isolation from noise and vibrations, optimal light and temperature control, plenty of storage and cargo space, thoughtful amenities, and the stable and secure ride that only the robust Prevost foundation can provide. The elevated ride in the spacious and quiet cabin offers passengers exceptional panoramic views through the flushmounted "Galaxsee" type frameless thermopane windows.

For a first-class travel experience, an elegant, ultra-comfortable and ergonomically-designed leather seating configuration in a spacious 2+1 layout with 120V Receptacles and pull out table at each seat with a rear Quick-Lounge System, an open style quick-fit modular system providing for luxurious seating accommodations for passengers without the paired seating arrangement. Overhead console contains adjustable registers providing air flow to passengers with reading lights and service bell. Aircraft-type enclosed overhead parcel racks have carpeting, lights and ample room. To enhance your experience, Prevost offers 4 overhead passenger television screens and one 17" screen located in the front.

Highlights of the Interior:
DIRECTV TracVision Mobile Satellite TV & Receiver w/ Roof Mounted Antenna
DVD Player
Autonet Mobile WIFI
Vinyl Floor
Leather Seating
Lavatory equipped with chemical flush toilet and sink
Galley w/ Keurig Coffee Maker and Microwave with Ice Box and Sink Compartment
Aisle Fluorescent Light, Lights under passengers seats, Driver's Area Lights, Overhead Compartment Lights, Step light
And much much more...........

All manuals and additional drive belts and miscellaneous emergency parts and supplies included.
Must see to appreciate!!! Sold with an oil change and fresh inspection.

For Additional Information Please Contact :
Salvatore at 716-438-6294 or Email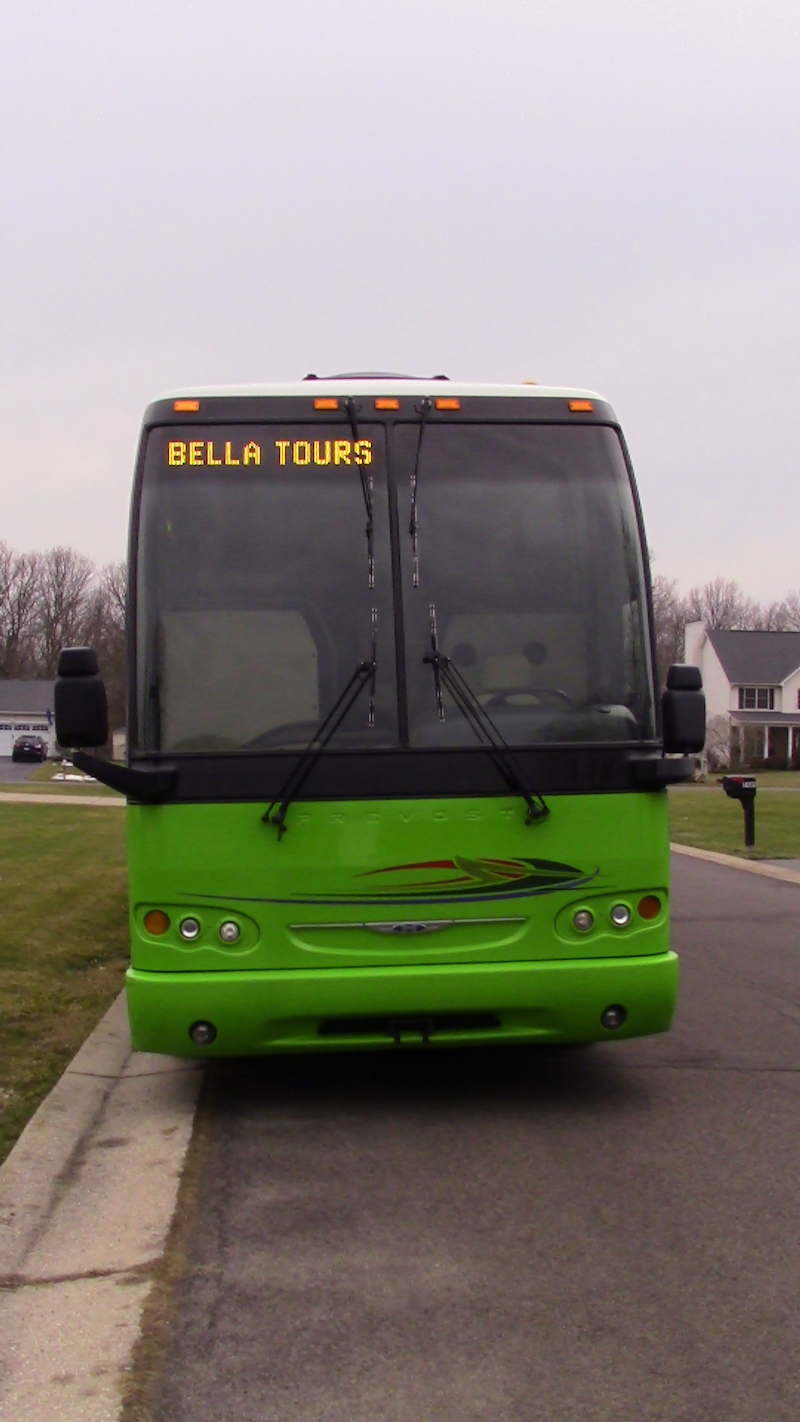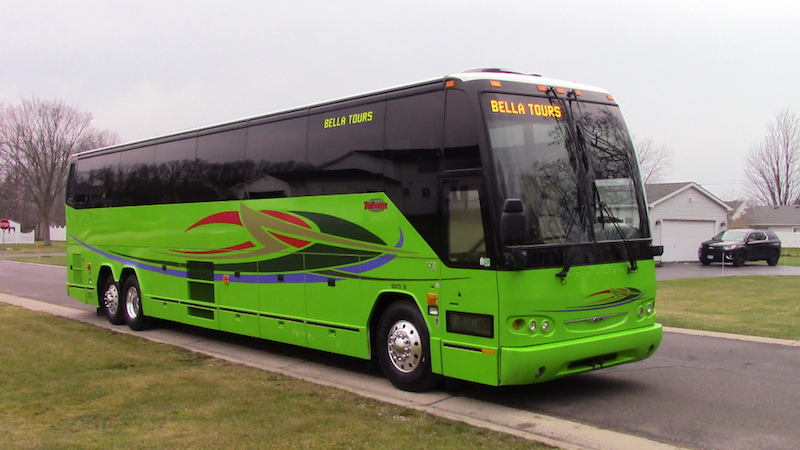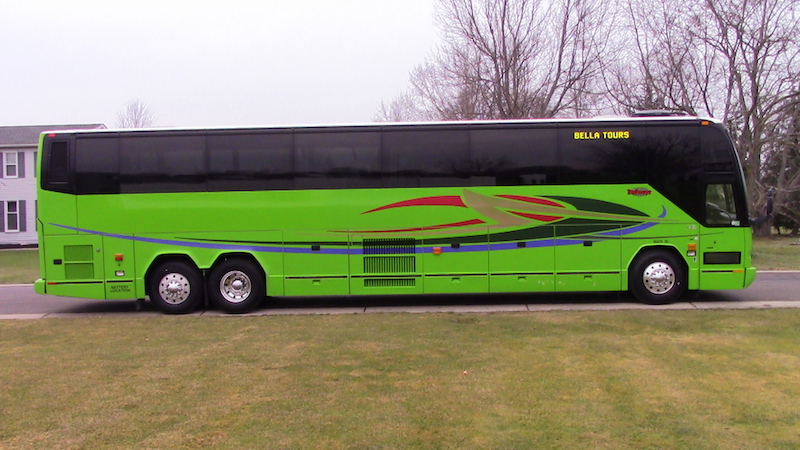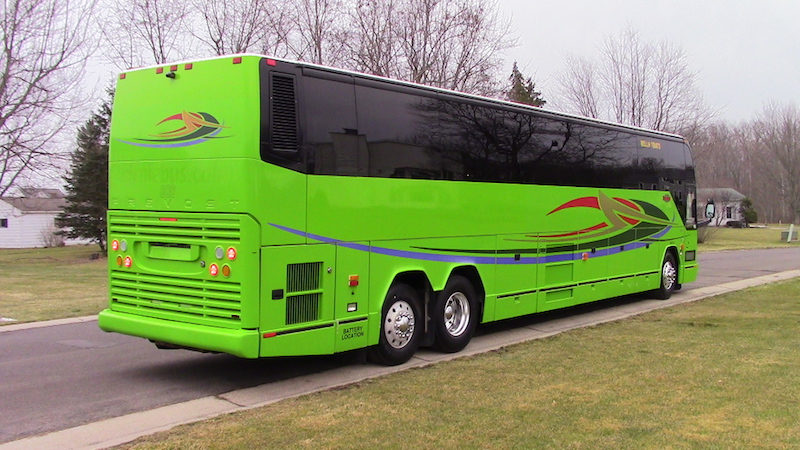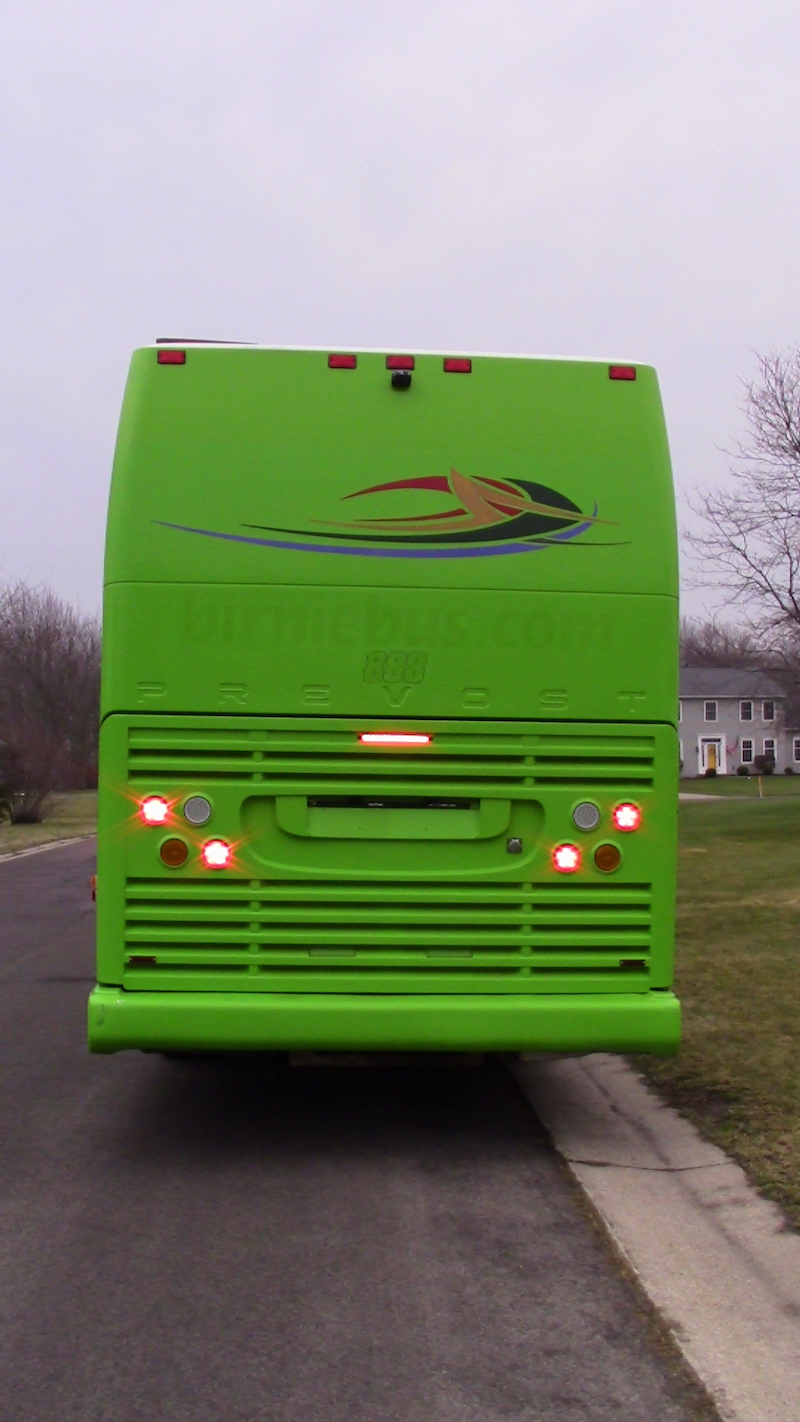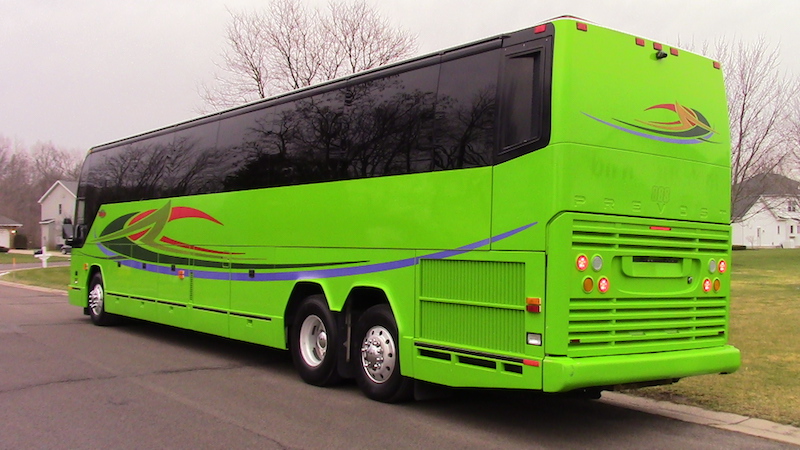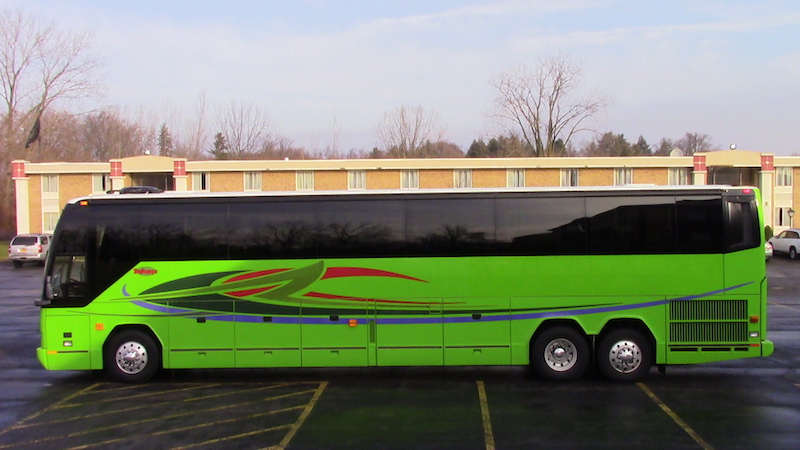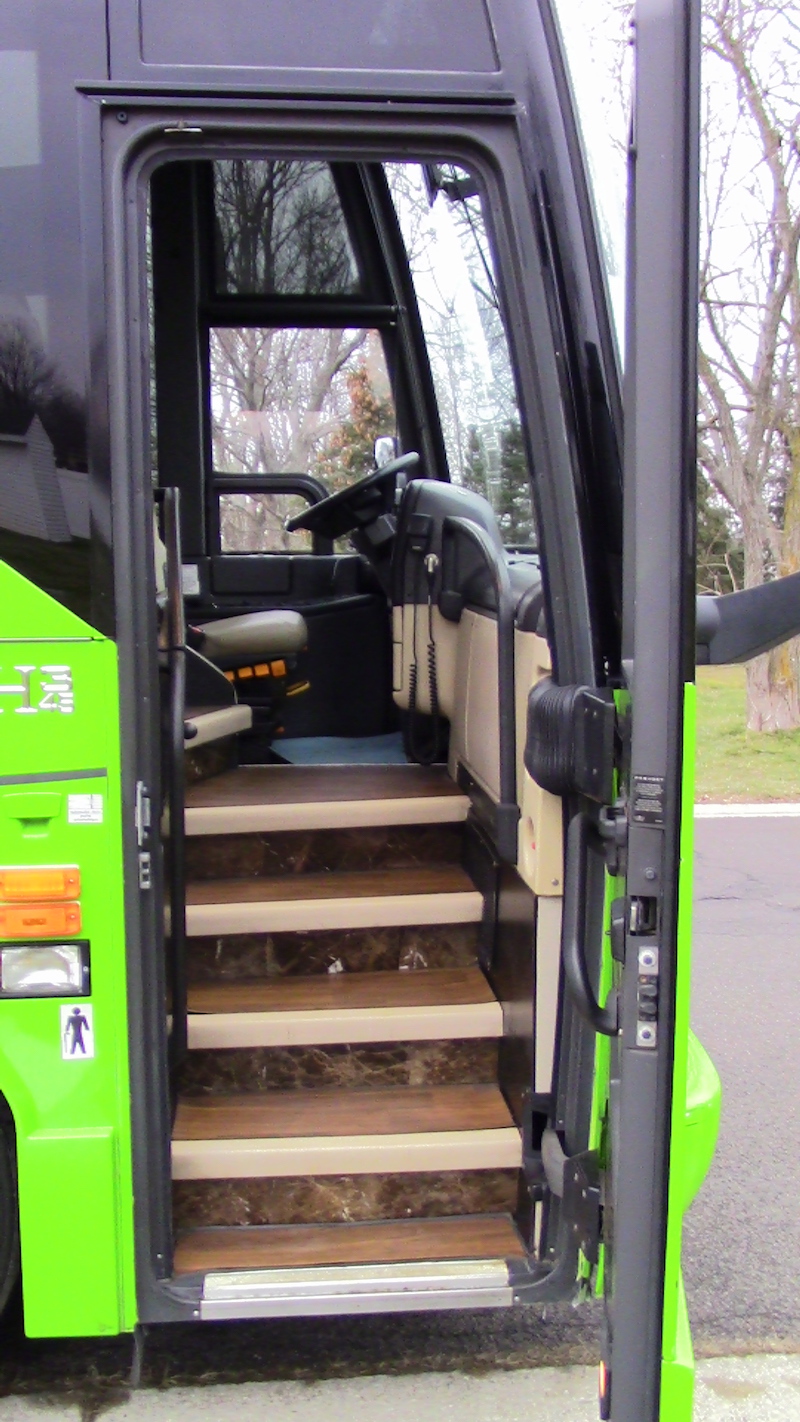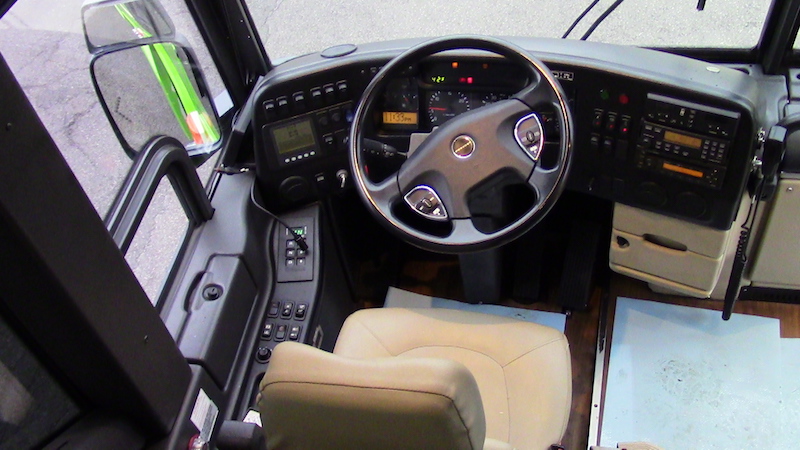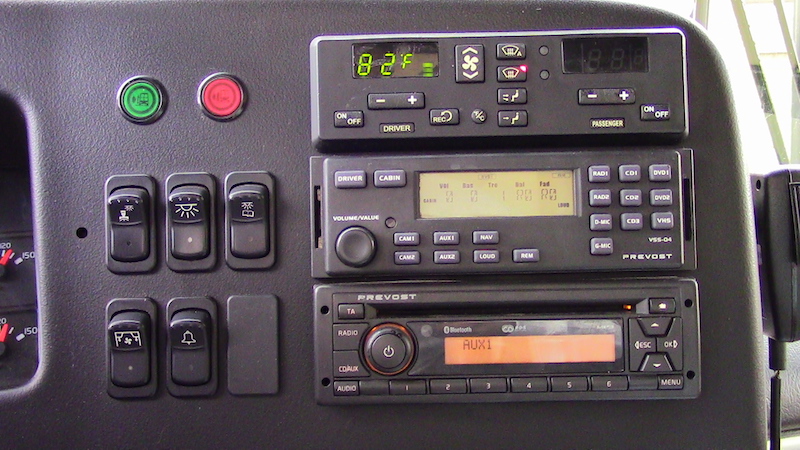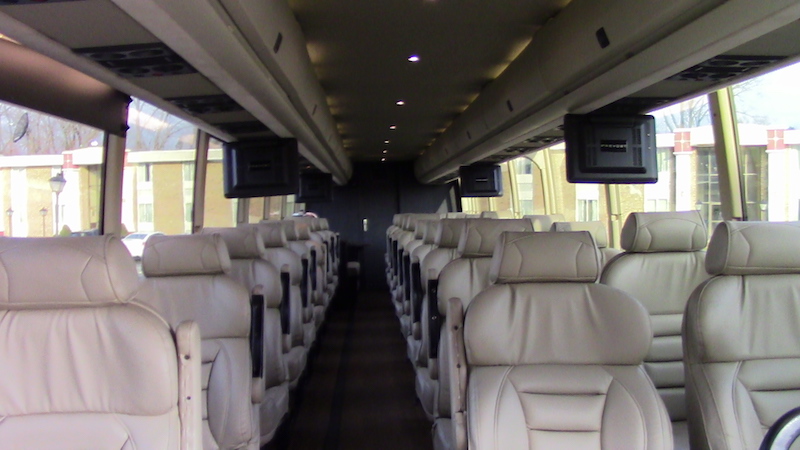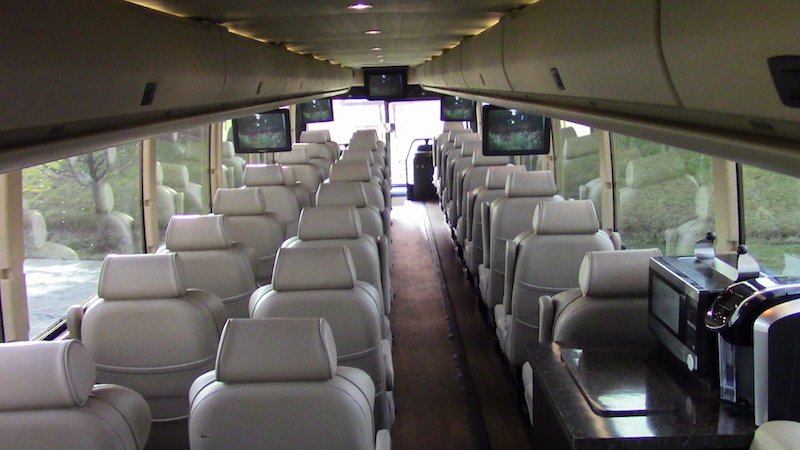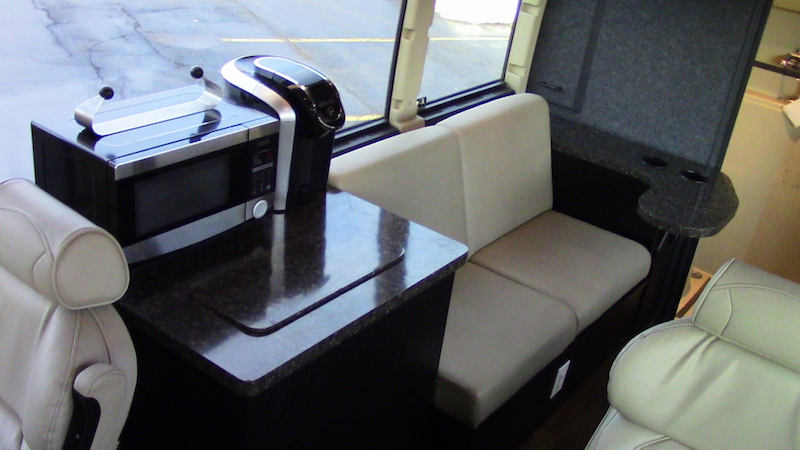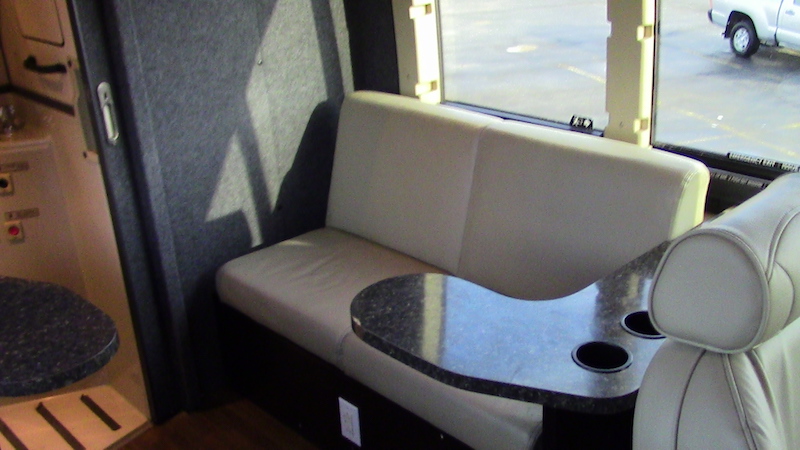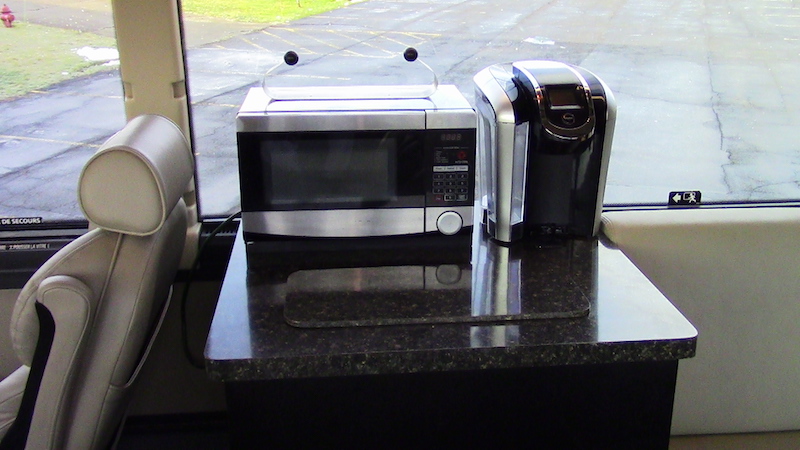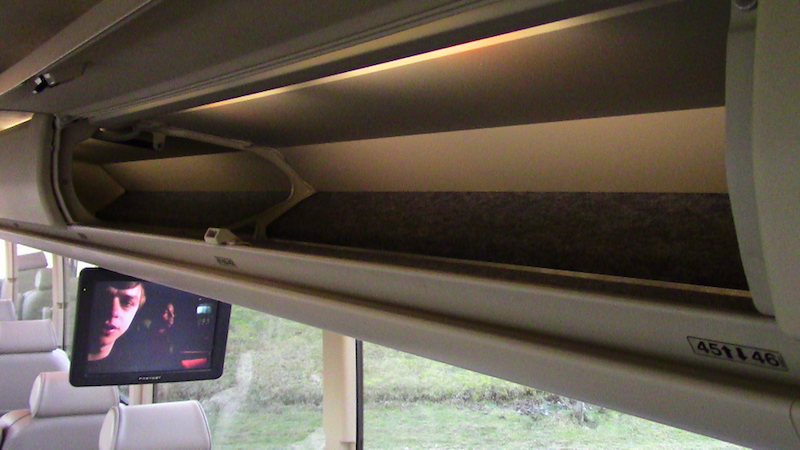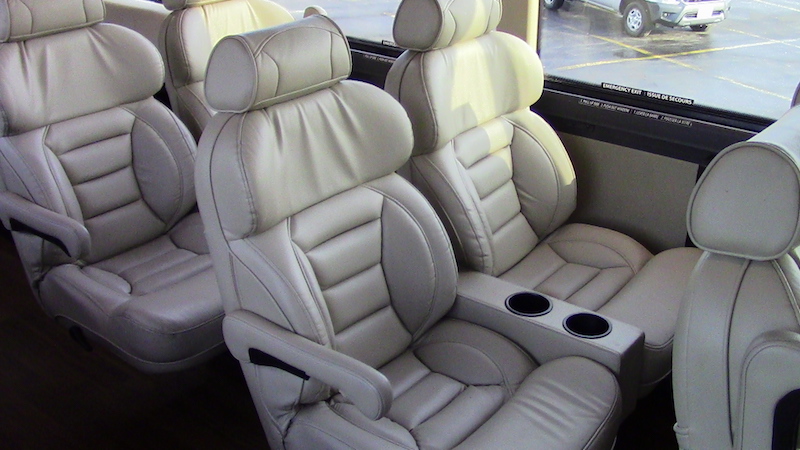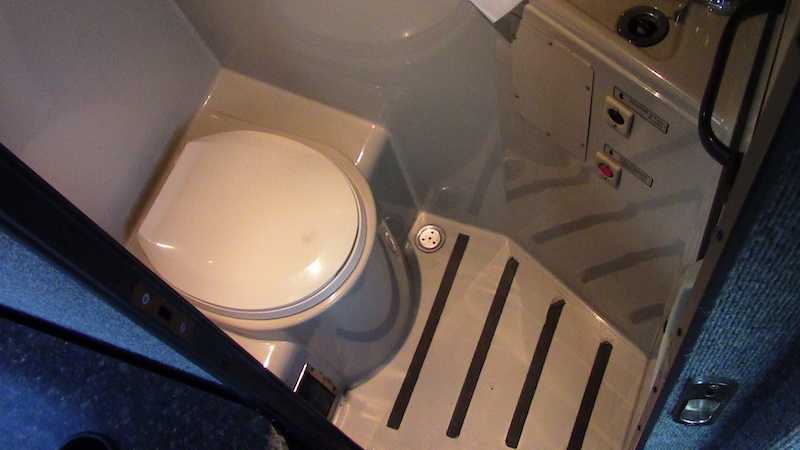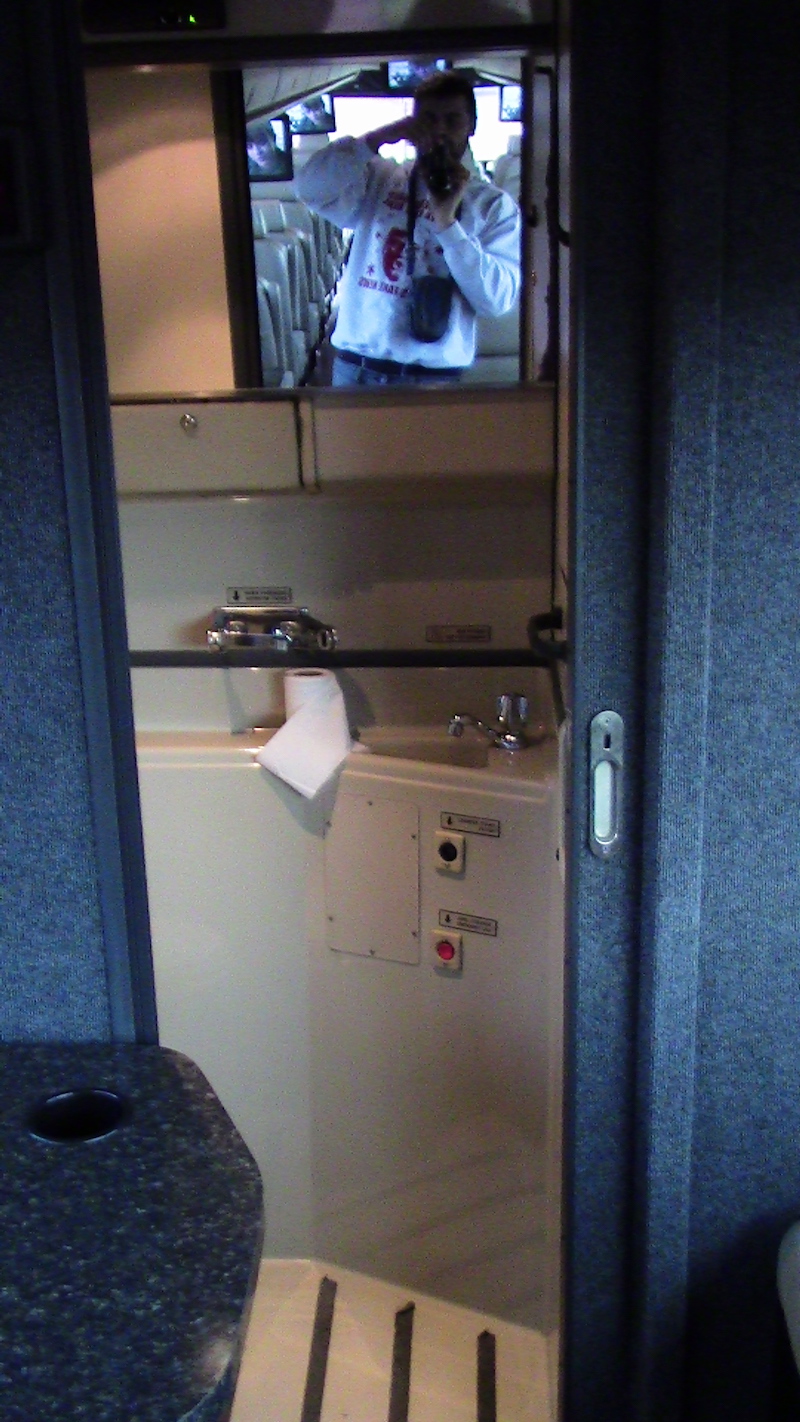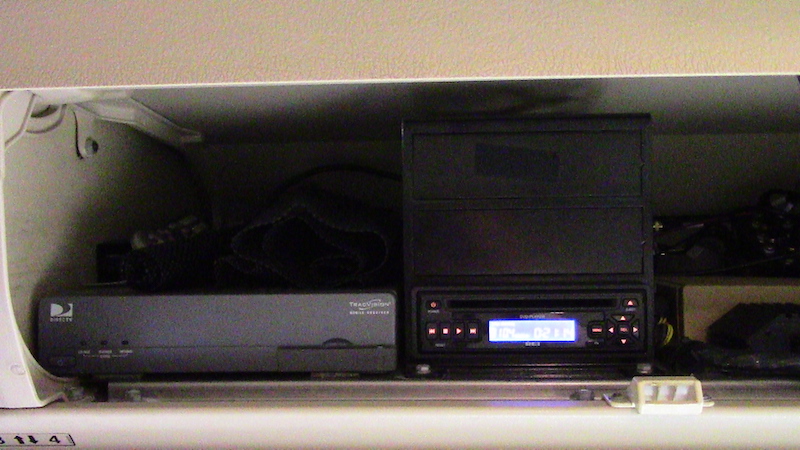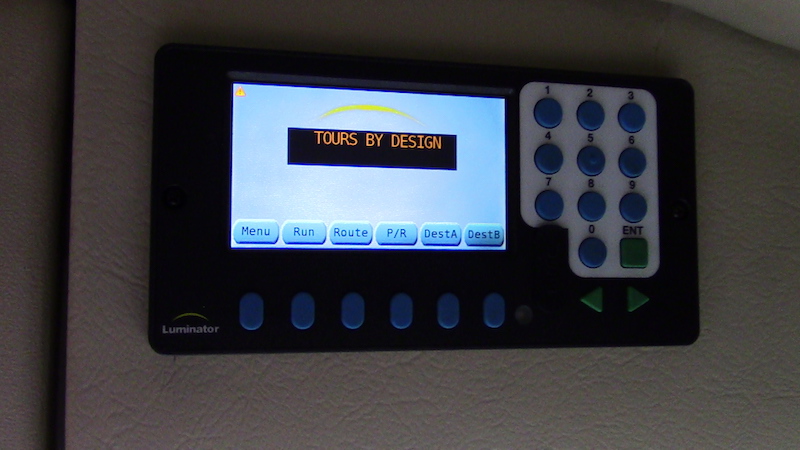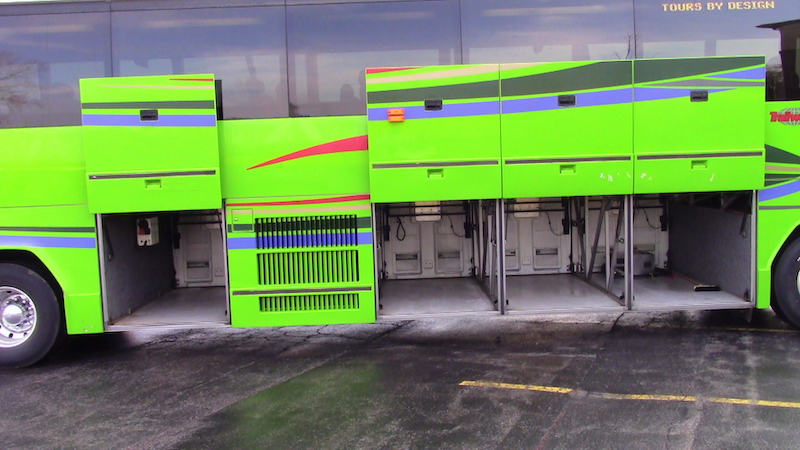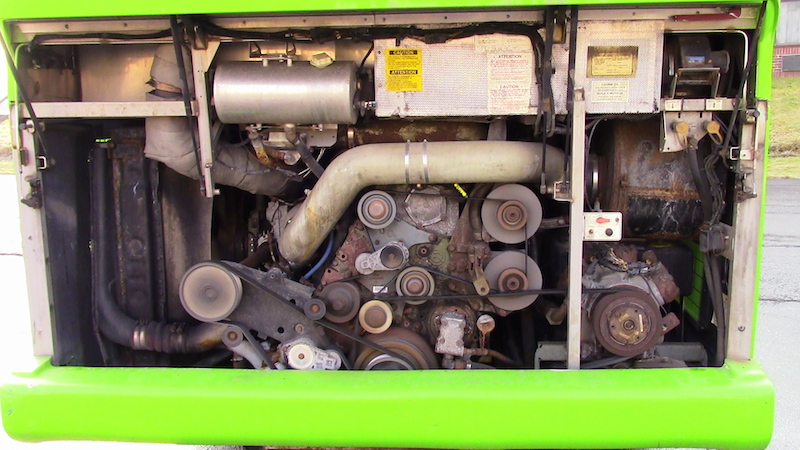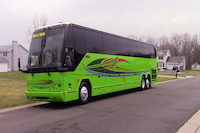 For Additional Information Please Contact :
Salvatore at 716-438-6294 or Email