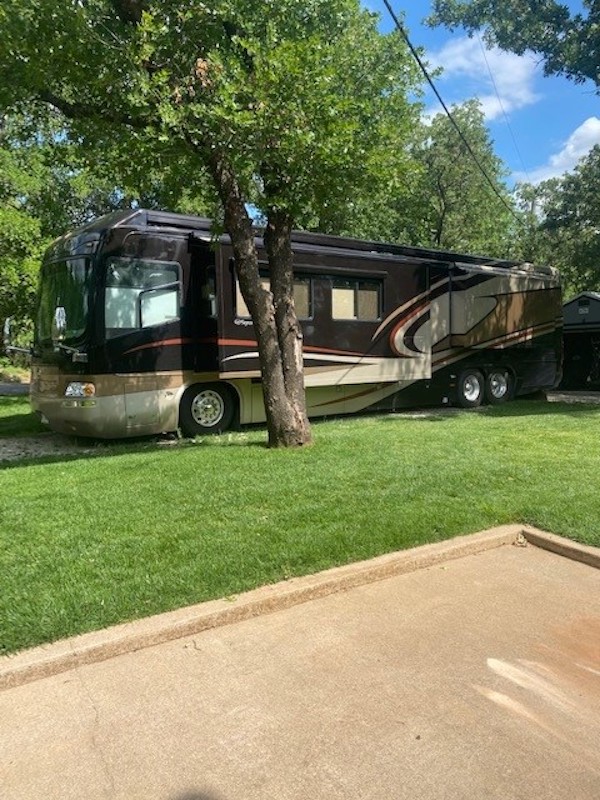 2007 Monaco Signature
Quad Slide
$ 169,000
106,000 Miles
Eastland, TX 76448
VIN: 1RF17561171043868
When this coach was new in 2006, it retailed for $591,000 and on top of that it had an additional $56,000 worth of options.  So, you are looking at a $650,000 coach that was top of the line and with options that were ahead of their time.
This Quad slide coach has the optional Cummins IS X600HP diesel, runs on a Roadmaster S-Series Chassis and is mated to an Allison MH-4000 6 Speed World Transmission with Jacobs Engine Brake, Full Cushion Air Glide Suspension, an adjustable shock system, Automatic Traction Control, an Anti-Lock Braking System with Disc Brakes, and an Automatic Air Leveling System.
She comes with Cayenne Spice FB exterior paint, with Cayenne Spice interior decor and Stained Cherry wood cabinetry.
The cockpit has a newer In-Dash Stereo, Color Rear Vision System, Aladdin Video Coach System w/Compass, SEE-Vision System, VIP Smart Wheel, Power Heated Leather Pilot & Co-Pilot Seats, Pilot Seat w/Memory /Electric Sliding Cushion, Power Footrest on Co-Pilot Seat, Adjustable Accelerator & Brake Pedals, Power Driver's Side Window, Triple Head Power Heated Mirrors w/Cameras, Keyless Entry System w/ Remote, a Deluxe Security System and the all-important Collison Avoidance System.
The main living area has a Tile Front Entry Landing, Ceiling Design w/ Accents, Solid Wood Colonial Arch Raised Panel Doors, Power Silhouette Shades, Leather H-A-B Sofa W/Air Mattress and the Plank Floor in the Kitchen & Bath has ben replaced, as well as the Carpet.
The A/V system includes a Fully Automatic Digital Satellite, Bose Home Theater, 37" LCD TV in Living Room, CB & Antenna, Multiplex 12v Wiring System and a Surge Protector.
The galley has a Residential Refrigerator w/Ice Maker, Corian Countertops & Windowsills and a Central Vacuum system.
The bedroom comes with a Queen Bed, a 32" LCD Flat Screen TV, the See Vision LCD Monitor, Day/Night Shades, a Ceiling Fan, a security safe and the stacked Washer/Dryer.
The bathroom has a Drop-In Glass Vanity Sink, Corian Shower w/ Tile Accents & Glass Door, Tinted Skylight in Bathroom and One 110v Baseboard Heater.
Outside, the coach has Roof Mounted Girard Auto Patio, Entry Door & Slide-Out Topper Awnings, Curbside (CS) Rear Awning, Roadside Front Window Awning, CS Front Window Awning and CS Rear Window Awning.  There is also a 32" LCD TV.
Mechanical and technical features include a Radius 50 Amp Power Distribution Center, 12.5 kW Diesel Generator on Power Slide, 2800 Watt Pure Sine Wave Inverter, Eight 6V House Batteries, Battery Maintenance Charging System, Solar Panel w/ Regulator, Manabloc Water System, 3 Low Profile 15M BTU A/Cs w/ Heat Pumps, Aqua Hot Heating System, Central Water Filtration System, No-Fuss Flush Holding Tank Rinsing System, Stainless Super Service Center w/ Shower & Tank Level Display Module, Flush Mounted Tinted Dual Pane Windows, 2 Electric 90" Pass Thru S/O Trays, Aluminum Baggage Doors w/ Power Locks.
The Batteries and Tires are less than 2 years old.
She has never been smoked in and really is a lovely coach with lots of miles left on her.
For Additional Information Please Contact :
Cindy Green
Motorhome Finders
888-783-4009 or 813-783-4000 or Email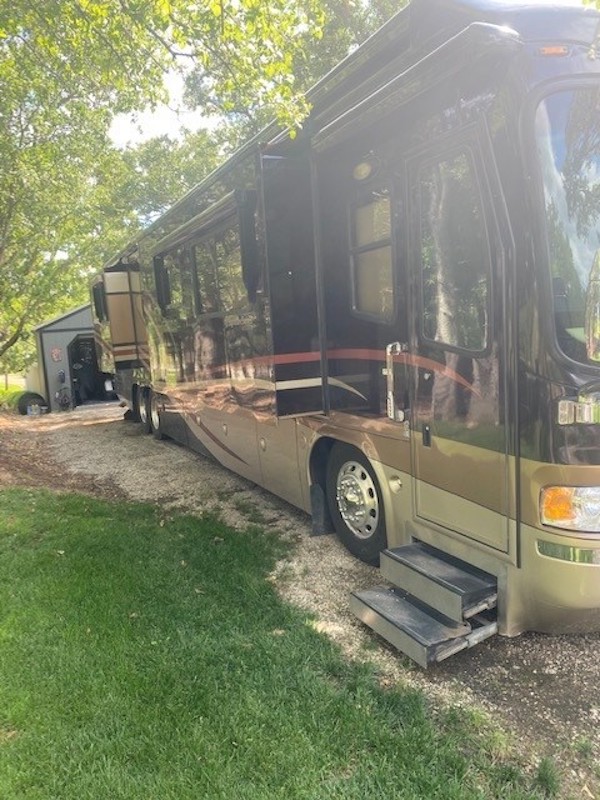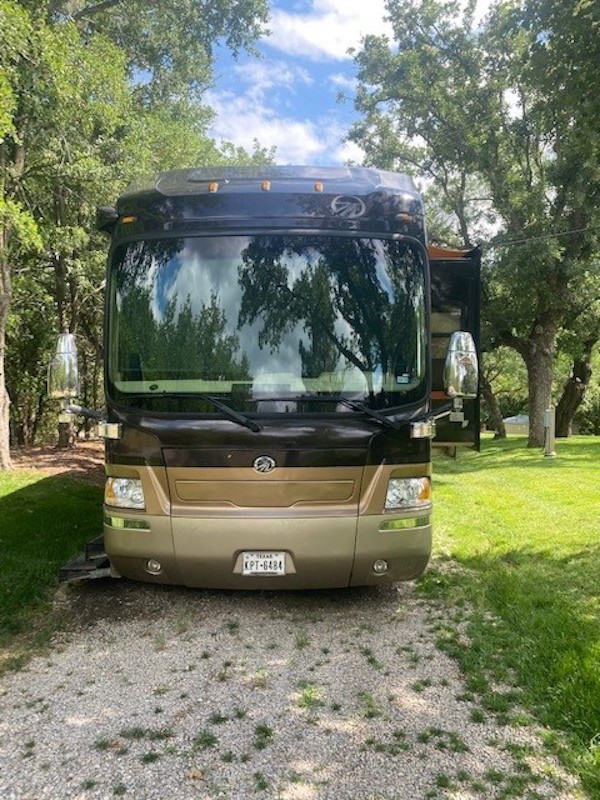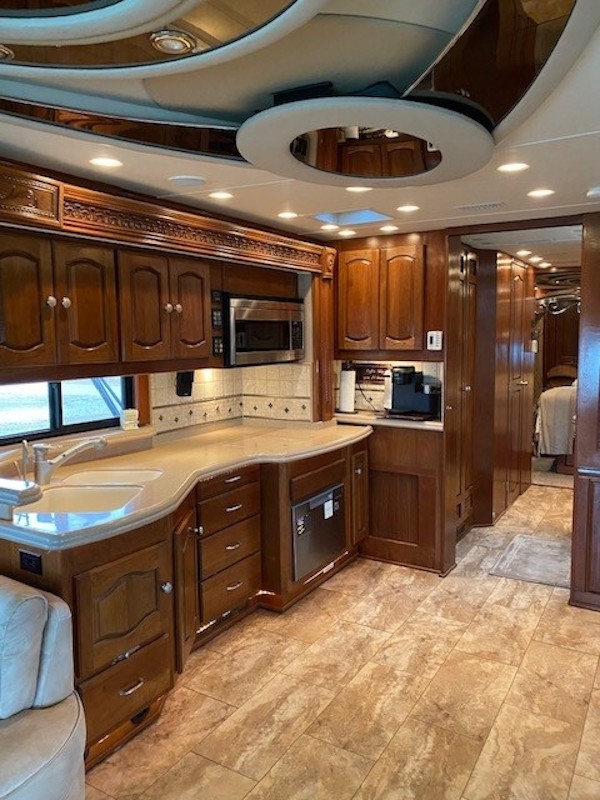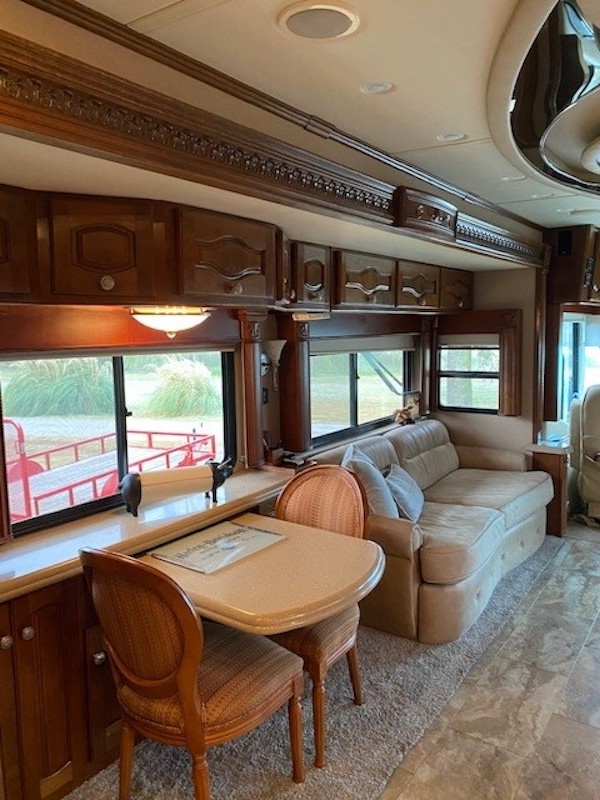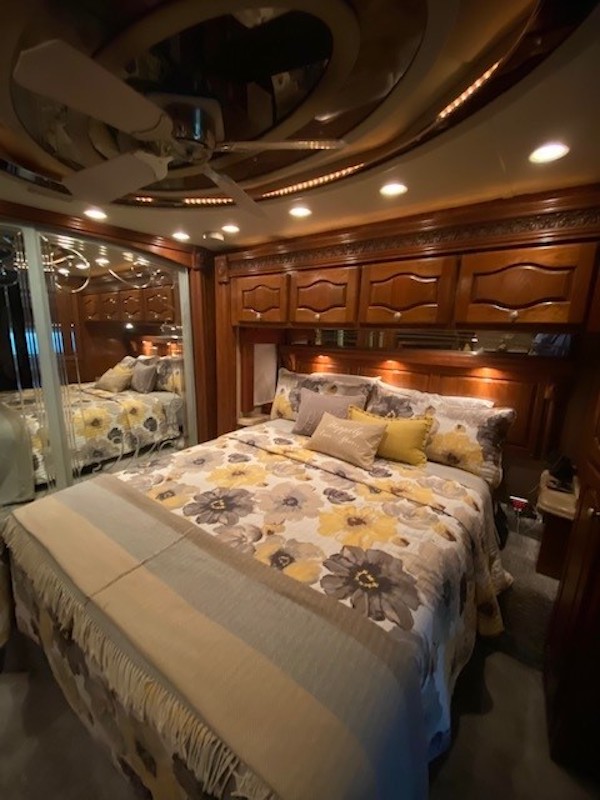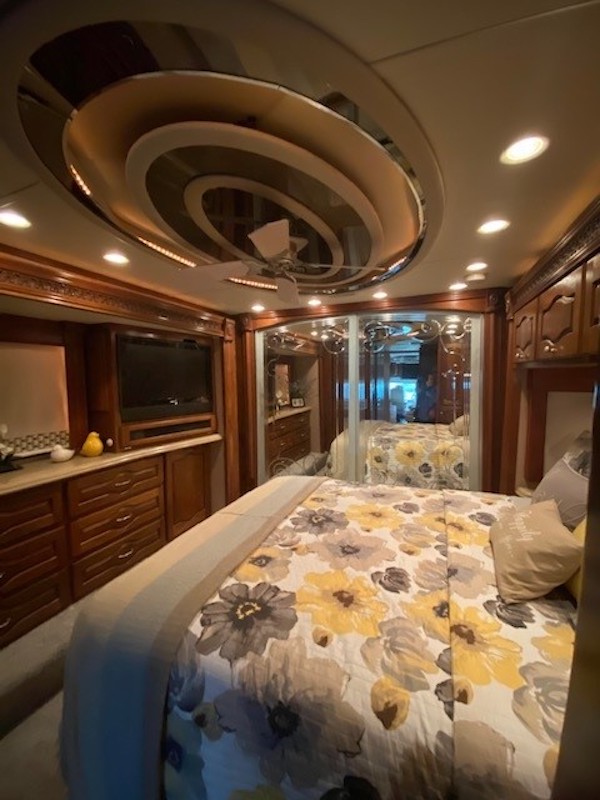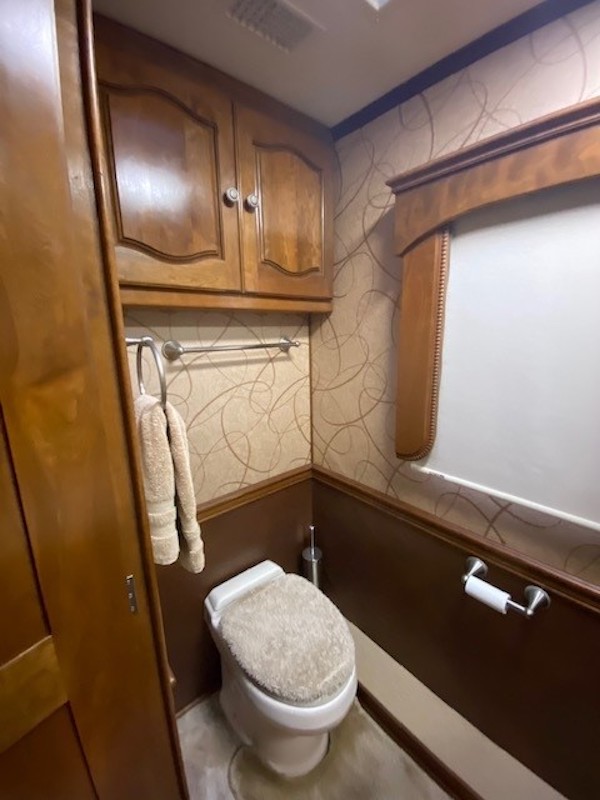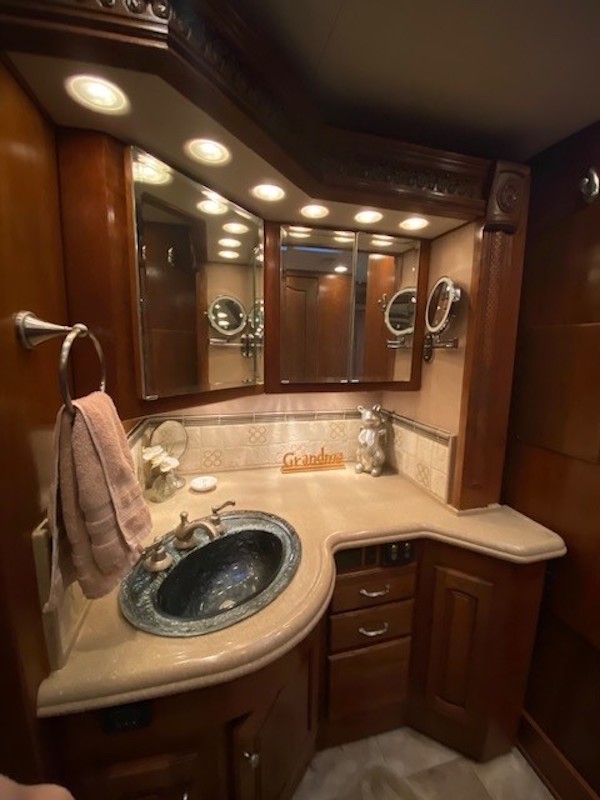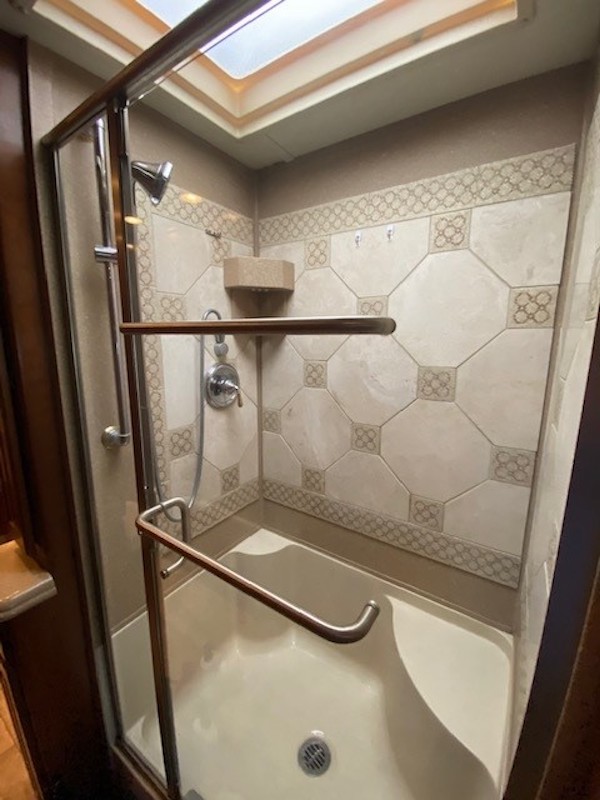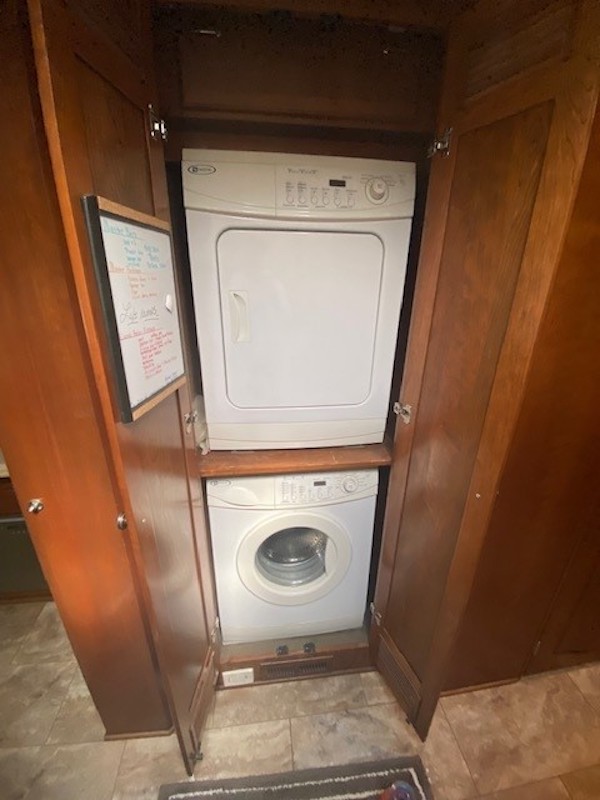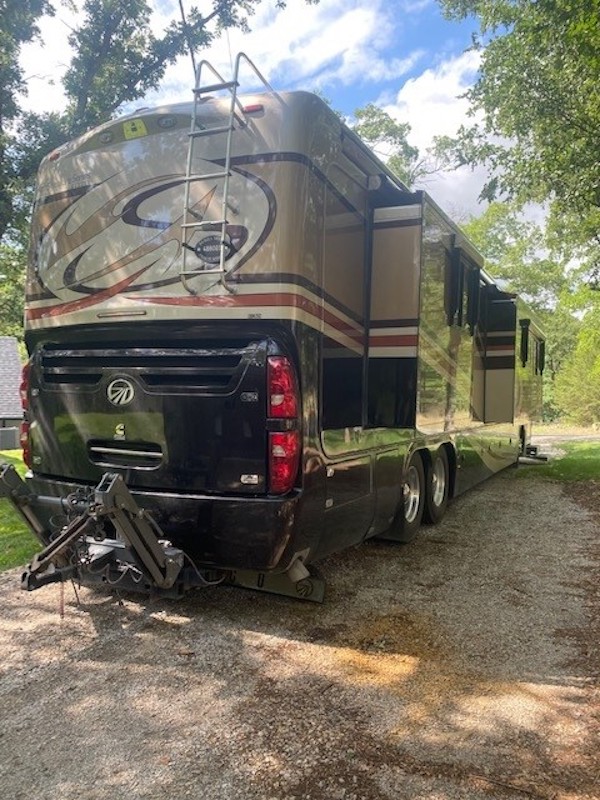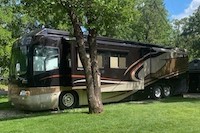 For Additional Information Please Contact :
Cindy Green
Motorhome Finders
888-783-4009 or 813-783-4000 or Email